Case Study - PCB Bioremediation
A collaboration with the University of Naples "Federico II"
BIOREMEDIATION OF PCB CONTAMINATED SOIL
PCBs polychlorinated biphenyls
LINE 1: BioSoilWashing – Application of a natural surfactant solution to displace pollutant from the matrix.
LINE 2: Degradation of the PCB molecules operated by naturally occurring microorganisms.
The Brescia-Caffaro site of national interest (SIN) is a large former industrial area abandoned after decades of industrial activity. The primary source of pollution is represented by the PCBs (polychlorobyphenils) which have been manufactured by the Caffaro industry from the early 1930s until 1983,  year these chemicals were  banned. Pollution is affecting groundwater and nearby agricultural soil; even though the area has been declared SIN  site in the year 2000, only a few, modest reclamation actions have been carried out so far.
Biosearch Ambiente, in collaboration with the University of Naples "Federico II" has performed on this site a preliminary study,  testing a novel bioremediation approach for the removal of PCB from the soil matrix.  Result data show that up to 70% of the contaminant could be removed with our methodology in a relatively short period of time.
SOIL WASHING WITH NATURAL SURFACTANTS
The first laboratory test consisted in a soil-washing procedure using a solution of surfactants of natural origin.  These work by forming complexes with the pollutants and removing them from the environmental matrix.
BIOREMEDIATION EXPLOITING NATURALLY OCCURRING BACTERIA
The second step of the remediation process relies on the metabolism of autochtonus soil microbial communities  which can be stimulated to grow with specific nutrients. These consist of micro and macronutrients mixtures designed in the laboratory, completely non toxic and biodegradable.   In this case-study, four different mixtures named M1, M2, M3 and M4 were used and the test samples were incubated both with and without oxygen.
MONITORING
Chemical analysis of soil samples  have been performed before and after biological treatment. 29 different PCB molecules were tested, including 12 dioxin-like compounds (considered within the most dangerous for human health) and the 209 congener, a fully chlorinated and highly persistent molecule which is the most abundant PCB found in the Caffaro site.
RESULTS
The results obtained after the BIOSOILWASHING treatment are shown in the graphs below.
Results suggest that the methodology can be replicated on site to treat contaminated matrix. The goal would not be the immediate degradation of the contaminant, but rather its  progressive reduction to levels near the concentration limits set by the law, limits that in some cases could be just impossible to achieve.
On the other hand the method described would allow the treatment of vast contaminated areas on site, without the need for excavation and disposal to landfill, thus providing a low-cost, environmentally sustainable remediation alternative to "dig and dump".
Grafico con i risultati del BIOSOILWASHING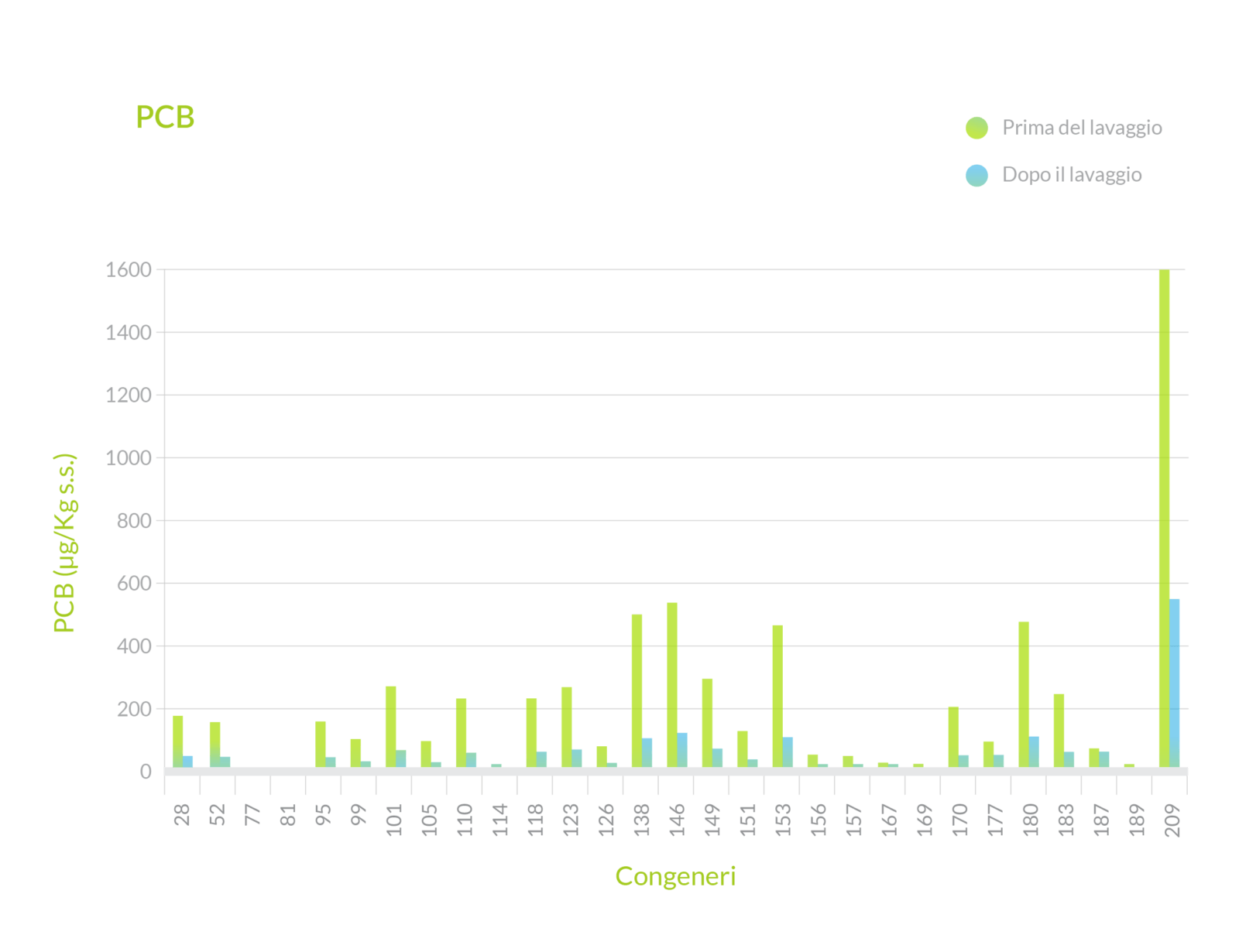 Tabella con i risultati  del BIOSOILWASHING (µg/Kg s.s.)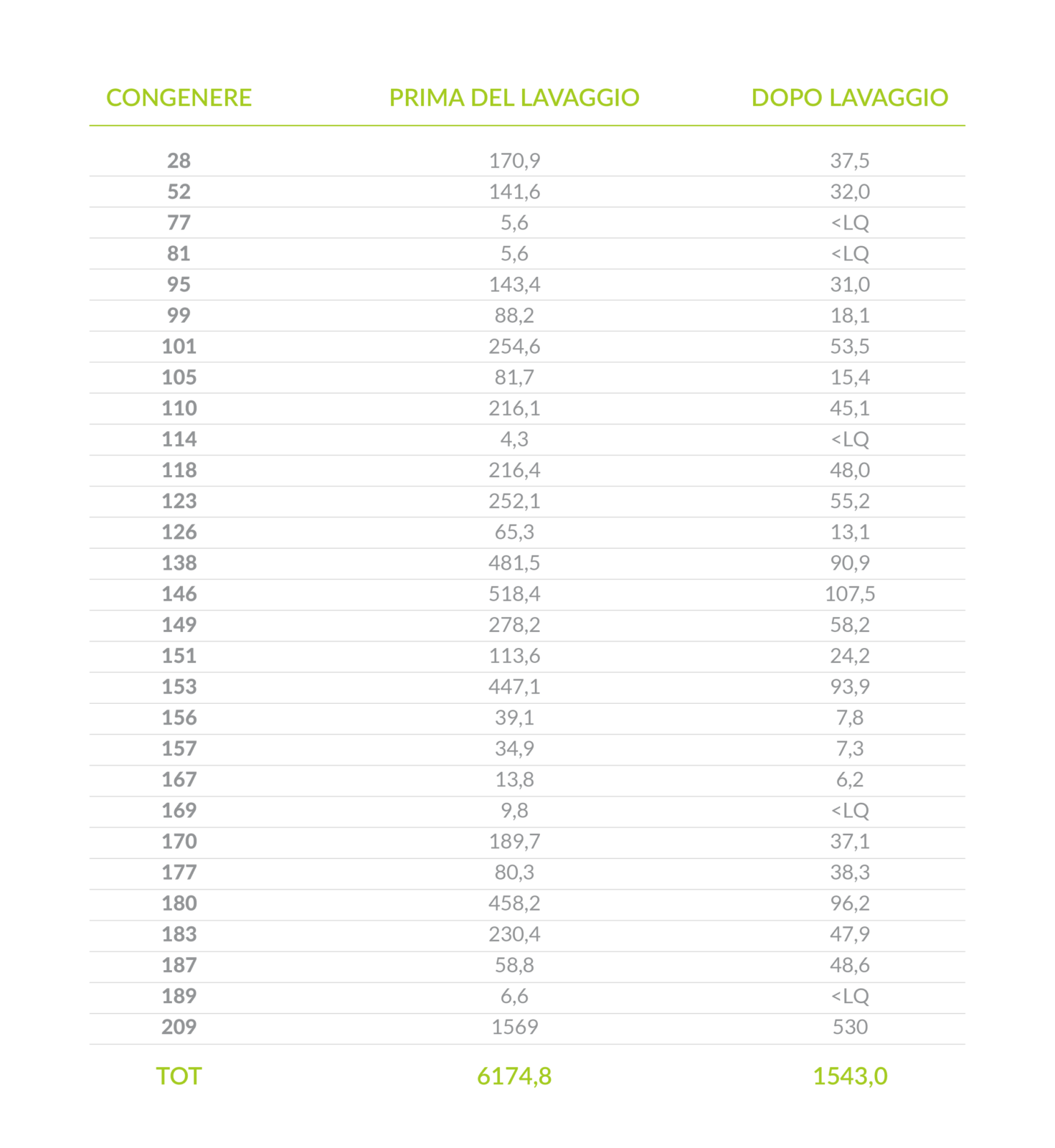 Primi risultati del Test di BIORISANAMENTO
LINEA 2 – PCB totali(µg/Kg s.s.)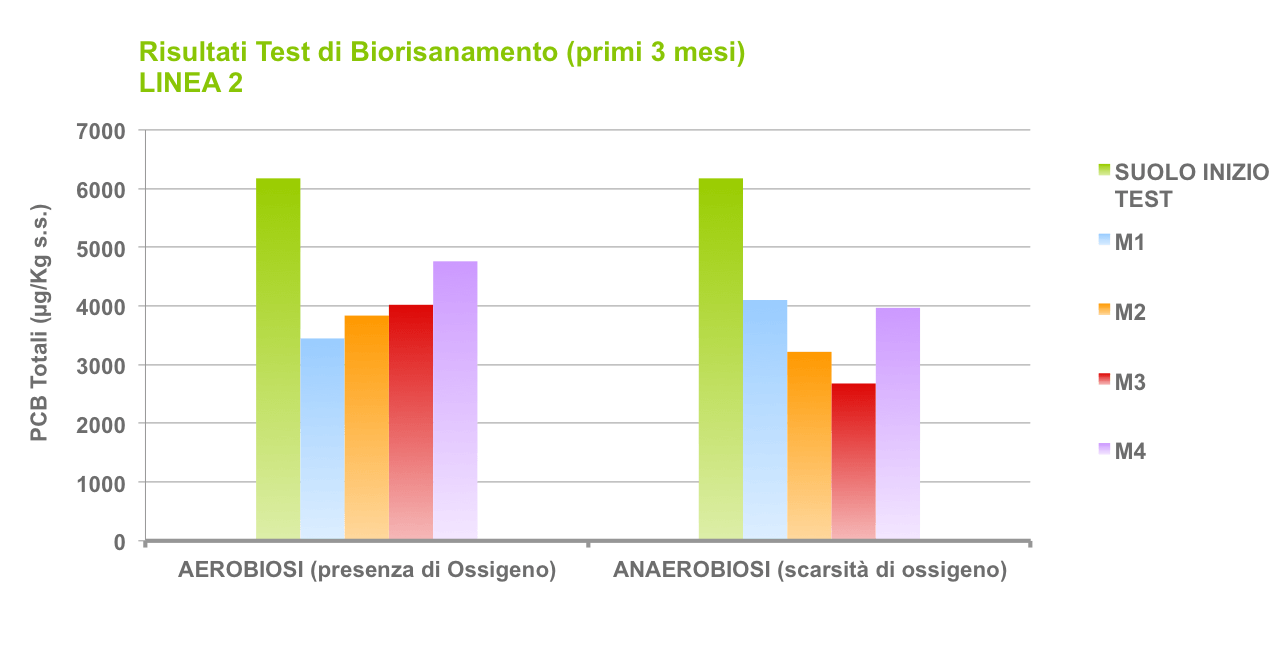 Test di BIORISANAMENTO LINEA 2
Biodegradazione del PCB 209